Live events production services ::
Boston Light & Sound® is the go-to source for exceptional sound and presentation for marquee events, such as annual meetings, conventions, private parties, commencement addresses, and music festivals. Our agile team can work directly with an organization or event planner to execute their vision for the event, or work hand in hand with a production company. We support clients' needs for virtual events with live streaming services.
As experienced project planners, we seamlessly bring together all the equipment and staff for every audiovisual need. We're there from project inception through installation, optimizing, and on-site support throughout the event to ensure everything runs smoothly. Recent projects include:
Services include:
Comprehensive project management
Technical management and support staff
Remote live streaming
Virtual events
Optimized sound reinforcement
Multi-channel audio and sources
Digital audio and sound processing
Teleconferencing
Video projection and display
Audiovisual presentation support
Video screen blending
Lighting
LED walls
Clients include:
Corporations
Universities
Arts and nonprofit organizations, such as museums and houses of worship
Entertainers
Production companies
Live event planners
Festival organizers
Brand experience firms
Live streaming and virtual events ::
The Boston Light & Sound (BL&S) team supports corporate clients, colleges and universities, houses of worship, and e-sports programs with an array of live streaming and multicasting services. These services have become especially popular during the pandemic as a way to connect with constituents safely. From corporate board meetings to special masses, our virtual events team produces remote and hybrid (a combination of remote and in-person) gatherings. Most recently, the team has created immersive experiences through socially-distanced indoor and outdoor events such as annual town meetings, corporate presentations, drive-in movie series and graduation ceremonies.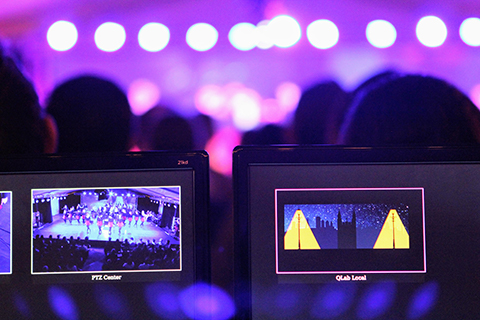 Full-service video production capabilities ::
Corporations, universities, churches, and nonprofits alike turn to BL&S for full-service video production capabilities. Our team enjoys creating compelling video experiences to help:
Strengthen your brand
Connect with your target audience
Increase revenues
During the pandemic, organizations rely on video even more to keep people engaged. Whether you're looking to make your fundraising gala shine or to drive more organic site traffic to your business, our team is here to help.
We make the process seamless, from collaborating with you on creative ideas to executing every detail, including developing scripts, shooting and editing video, and managing production. Single- and multi-cam videos can be created at our virtual studio or the location of your choice.
Check out some of our latest video production work.
Lighting ::
Versatile, state-of-the-art lighting equipment is available for rent, adding a new visual element to your next big event. BL&S rents the latest in wireless uplighting, concert, and general stage lighting, including:
Battery-powered Echo Cubes
ETC ColorSource® LEKOs luminaires
LED PARs


Our specialty lighting team is also available to install lighting equipment for events, including live bands, parties, and corporate gatherings.
Video screen blending ::
Behind-the-scenes preview: Dreamy audio plays while beautiful footage of regionally-appropriate waves and whales flows across the ceiling of the event tent to set the mood for the Provincetown Film Festival's 20th Anniversary Celebration.
L'Acoustics technology ::
Our highly trained staff can set up, tune, and operate the very latest L'Acoustics technology—providing you with optimal audio coverage in a compact footprint for any venue from ballrooms to arenas. An exceptionally high-end system, L'Acoustics is the ideal choice for those with discerning taste in audio.
View Specs - KARA System Modular WST® Line Source [PDF]
Get started with live events::
For more information about live events production services, contact Ryan Brush, Live Events Dept. Manager at 617.787.3131, ext. 117 or at brush.ryan@blsi.com
Download BL&S Live Event Production Services [PDF]