this is the most complex production that we do over the period of a year. ... Basically, we have to install eight to ten cinemas' worth of equipment in a booth 26 feet wide, and we have to do it in a day and a half." BL&S teams up with equipment manufacturer partners to transform The Colosseum at Caesars Palace in Las Vegas from a world-class live performance venue to a 4,300-seat, festival-quality movie theatre. Read the full article, "Converting the Colosseum," by Mark Mayfield of Film Journal here [PDF].
"The Sound of the Colosseum"
2018 marked a new milestone for CinemaCon, as BL&S and QSC teamed up to bring "Dolby Atmos sound to the entire Colosseum, including the second mezzanine—which adds about 800 seats." As Mark Mayfield, director of global cinema marketing at QSC says, "Converting the Colosseum at Caesars Palace into 'the world's largest movie theatre' has always been a big job; this year...the job was even more 'colossal.'" "Total amplifier power for the entire system exceeds one million watts. 'That,' concludes Mayfield, 'is the biggest ever.'" Read the full article, "The Sound of the Colosseum: QSC brings Dolby Atmos to the entire Caesars Palace theatre" by Bob Gibbons of FilmJournal.com.
Building on success with ShoWest
The largest annual convention for the motion picture exhibition industry, ShoWest is the only international gathering devoted exclusively to the movie business. In 1998, ShoWest's new director set out to achieve better sound and projection (including 5.1 channel stereo) than what had been presented in recent years.
BL&S had successfully presented the 5.1 format in the challenging Bally's Events Center at ShoWest several years earlier, using its expertise in large venue 70mm presentation for Universal's Far and Away. Impressed with their work, ShoWest's director hired BL&S to take on technical direction for the entire convention, including its digital cinema facilities. This includes installation and support in three separate venues using the highest quality projection and state-of-the-art, high- performance sound systems.
Each of the convention venues presented unique challenges. For example, the massive Paris Ballroom had special audio considerations due to the unusual dimensions of the room. To achieve proper sound within the Paris Ballroom, BL&S installed four separate delay zones for the surround speakers and a combination of long and short throw surround cabinets, a concept devised by Larry Shaw to deliver full rich sound throughout the cavernous venue. The result is the largest Dolby Digital sound system installed anywhere in the world. It exceeds Dolby and THX specifications for audience coverage.
The event producers have been very pleased with BL&S's results: "They're perfectionists. They have to make the toughest group of people in the world happy and that's execs in the motion picture industry, and they're up to the task. There's never a situation which can't be addressed," said Neuhauser.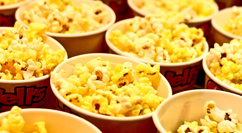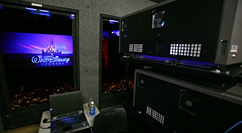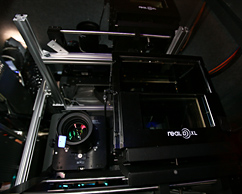 Whatever it takes – BL&S does it
"Everybody knows BL&S. Their great reputation and professionalism precedes them in the industry. Whatever's needed to make a perfect state of the art show – whatever it takes – BL&S does it."