Each Boston Light & Sound® (BL&S) Rear Window® reflector consists of an acrylic panel specially tinted to enhance viewing of the Rear Window text display board. This panel is mounted to a flexible gooseneck for simple one-hand user adjustment. The hardware and parts are non-reflective black. BL&S can also custom design reflectors for any need.
RWII-23

The most common reflector model, this lightweight unit has a tapered, resilient puck with three cavities for extra "give". The uncompressed puck is approximately 3 5/8" across the top and 2 1/2" across the bottom to fit virtually all theatre cupholders. The approximately 20" long arm is light, very flexible and maintains the set position.
RWCLII-23

For theatres without cupholders or that prefer to keep the cupholders free for wheelchair use, instead of the puck, an armrest clamp can be attached for mounting to the chair's frame or a non-padded armrest. The clamp is adjustable from 1.8" to 3." The flexible arm is approximately 20" long.
Price for each of the above units is $95.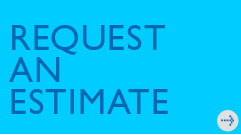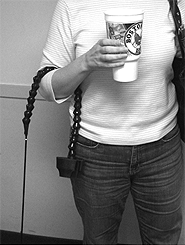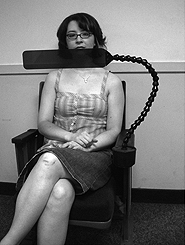 For more information about
Rear Window, DVS Theatrical, or Rear Window reflectors, contact:
Mark Grundstrom, Purchasing Coordinator
617.787.3131, ext. 107
markg@blsi.com