November 2017 – BL&S's Chapin Cutler on the art of 70mm film featured in "Dying arts can be saved — but is it worth it?": "Is the way the movie is projected incidental to its artistry, or essential to it? ... (I)s saving the '2001' experience, in all its original glory, really worth the effort it would require?" Find out what theatres, projectionists and industry specialists including BL&S's Chapin Cutler have to say on the challenges and rewards of preserving 70mm film projection and skills. Read the full article by Alan Wirzbicki of The Boston Globe.
October 2017 – 35mm projection workshop hosted by AMIA and BL&S – Oct. 30-Nov. 1 at BL&S: "The Association of Moving Image Archivists (AMIA) and Boston Light & Sound, in partnership with Martin Scorsese's nonprofit organization The Film Foundation, will host a three-day, intermediate-level film projection workshop offering expert-led training in the proper handling and presentation of 35mm film in theatres. The hands-on educational event will take place Oct. 30 to Nov. 1 at Boston Light & Sound in Boston." Read the full article at FilmJournal.com For more information, and to register, visit www.projectionworkshop.com.
October 2017 – "Boston Light & Sound Co-founder Chapin Cutler on Keeping 35mm Projectionists' Skills Sharp": Leading up to the AMIA and BL&S 35mm projection workshop, StudioDaily interviewed BL&S co-founder, Chapin Cutler, about theatrical presentation and the state of film projection today. Cutler explains, "'[Co-founder] Larry and I believe that it is part of our mission to teach as many people as we can and pass on that legacy to as many people as possible, and that's what this seminar is all about.' We asked Cutler for some more info on who is still projecting 35mm film in the U.S., how the upcoming workshop will help experienced projectionists train up, and what's so great about screening 35mm film in the first place." Read the full interview with Bryant Frazer at StudioDaily.com
October 2017 – Q&A with 'Dunkirk' 70mm projectionist, Mark Davenport: Releasing the gripping WWII film 'Dunkirk' in 70mm took more than sourcing, refurbishing, and installing projection equipment. It also involved hiring projectionists to run the film at more than 125 theatres across the country and internationally. We sat down with one of the projectionists, Mark Davenport, to hear about his experience working on the 'Dunkirk' film premiere with BL&S. Read the full interview from BL&S. Read more about BL&S's role in the 70mm screenings of 'Dunkirk'.
September 2017 – 'Stronger' premiere at Spaulding Rehab, Boston: Inspired by the true story of Jeff Bauman – one Boston Marathon bombing survivor – the film starring Jake Gyllenhaal opens in Boston on September 22nd. Read more about BL&S's role in the special premiere 'Stronger'.
August 2017 – Behind-the-scenes DVD Extra of 'Dunkirk' on 70mm film: "70mm is the most incredible way to tell a large-scale story," says 'Dunkirk' director/writer/producer Christopher Nolan. Watch footage of the movie and find out how the 70mm film moves through the print make-up, from processing to editing to the theatre.
August 2017 – BL&S's Chapin Cutler, 'Dunkirk' featured in "Dolby, 70 Millimeter or Imax? Our Critic Helps You Choose": Find out why – and where – to enjoy these different screening formats this summer. Read the full article by Ben Kenigsberg of The New York Times.
July 2017 – BL&S's work for 'Dunkirk' on 70mm featured in "What's The Big Deal With Dunkirk on 70mm Film?" radio segment: "'Technically speaking it's the best way to see a motion picture that's yet been invented,' said David Kornfeld, head projectionist for the Somerville Theatre, who has worked with 70mm film for four decades." "'What I see represents thousands of man hours,' said technician Rob Cejka, as he showed me the insides of a working projector at Boston Light & Sound. 'Love and passion go into these to be able to bring them back from the dead to be able to carry on for another generation.'" Listen to or read the full story by Edgar B. Herwick III of WGBH News's The Curiosity Desk.

July 2017 – BL&S, 'Dunkirk,' build on Hateful Eight success – "'Dunkirk' and the 70mm Experience: Why The Unlikely Comeback of the Big-Screen Format Has Hollywood's Attention: How Christopher Nolan's 'Dunkirk' is building upon what Tarantino started with the Hateful Eight and why it's important." "BL&S's co-founder Chapin Cutler told IndieWire that without the resources and energy put into the Hateful Eight roadshow it's almost certain 70mm projection equipment would have continued its rapid path to extinction. But like other film lovers, Cutler thinks the effort was well worth it." Read the full article by Chris O'Falt of IndieWire.com.

July 2017 – "'Dunkirk' Could Launch a 70mm Film Presentation Renaissance": "'There's a lot of excitement based on how well Hateful Eight did,' said Chapin Cutler, co-founder and principal of Boston Light & Sound, which is back on 70mm projection duty for Dunkirk. 'We've been talking about this with Warner Bros. for the better part of a year. We got serious in January. We were asked to replicate what we did for Hateful Eight with some slight changes (since many of the projectors are still at the sites used for Tarantino's release).'" Read the full article by Carolyn Giardina from The Hollywood Reporter.

July 2017 – BL&S featured in "How The Coolidge Corner Theatre Brings Its Mission To The Greenway": "'Boston Light & Sound donated the equipment to make the screenings happen. They knew that what would set these shows apart from all of the other outdoor summer films would be the fact that we're actually running film from the back of a truck,'" says the Coolidge Corner Theatre Foundation's program manager, Mark Anastasio. Read more about BL&S's part in the free outdoor – 35mm – screenings and how The Coolidge at the Greenway programming choices reflect the series' unique setting: Full article by Sean Burns from The ARTery.
Get details and schedule for The Coolidge at the Greenway. All films will be screened in 35mm.

July 2017 – BL&S 70mm expertise tapped again – "Warner Bros. Prepping 'Dunkirk' for One of the Largest 70mm Releases of Last 25 Years": "Current plans include roughly 100 standard 70mm installations plus 31 70mm Imax theaters. Christopher Nolan's commitment to the film format will be on full display with the release of his World War II drama Dunkirk, whose July 21 release is expected to include roughly 100 70mm theater installations plus 31 Imax 70mm theaters — which would make it among the widest 70mm releases in the last quarter century." Read the full article by Carolyn Giardina from The Hollywood Reporter.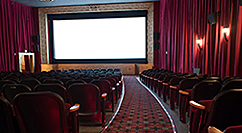 February 2017 – BL&S, Strong/MDI installation at Nashville's Belcourt Theatre: "Belcourt Theatre, one of Nashville's most vibrant arts organizations, needed large, motorized systems and framed projection screens to replace the screens in two auditoriums." Boston Light & Sound teamed up with Strong/MDI to install "customized, cost-effective solutions." Read the full case study from Strong/MDI.

February 2017 – Boston Light & Sound has been selected as a "Certified Rental Network Agent" by L'Acoustics: "As well as having provided sound for all of the usual major events since the advent of the WST® line sources in 1992, today L-Acoustics®' systems add their sonic signature to numerous installations in theatres, convention centers, sport arenas, houses of worship and amusement parks. ... The Winter Olympic Games ceremonies in Sochi featured the new K2 line source system." Learn more about L'Acoustics audio systems.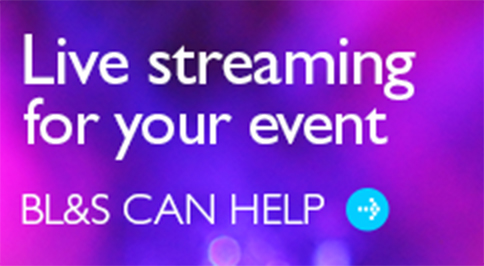 January 2017 – Department of Justice Final Rule on Movie Captioning and Audio Description Compliance with ADA: "On November 21, 2016, Attorney General Loretta Lynch signed a Final Rule revising the Justice Department's Americans with Disabilities Act (ADA) title III regulation to further clarify a public accommodation's obligation to provide appropriate auxiliary aids and services for people with disabilities."

"The Final Rule requires require movie theaters to: (1) have and maintain the equipment necessary to provide closed movie captioning and audio description at a movie patron's seat whenever showing a digital movie produced, distributed, or otherwise made available with these features; (2) provide notice to the public about the availability of these features; and (3) ensure that theater staff is available to assist patrons with the equipment before, during, and after the showing of a movie with these features. ... The Final Rule will take effect 45 days after publication, on January 17, 2017."
Read the official version of the Final Rule, Press Release and Q&A from ADA.gov.
View Questions and Answers about the Department of Justice's Final Rule Under Title III of the ADA Requiring Movie Theaters to Provide Closed Movie Captioning and Audio Description from ADA.gov.
NOTE: An update is expected to Paragraph 8 of the DOJ's Q&A regarding minimum number of audio description devices required. Please contact BL&S with any questions about equipment needed for compliance.
Learn about BL&S's accessibility systems for digital cinema. [PDF]
January 2017 – BL&S's Dan Beedy on PIX 270i Recorders and the Sundance Film Festival: Hear how BL&S helped Sundance switch from HDCAM digital playback format to PIX 270i, what it means for the festival and the industry. Dan Beedy explains one benefit of the change: "We're finding that people are way, way more likely to provide something (in a format) that we can play back right out of the gate when we're using the PIX 270i, because it's following most of the industry standards with its support for FinalCut Pro® and Adobe®." Read the full story from Sound Devices at VideoDevices.com.