Tackling acoustical challenges
The museum's 325-seat theater was created through the extension of the wood HarborWalk material from the public grandstand into the interior of the building. The remaining walls are glazed in clear glass, allowing visitors to enjoy harbor views behind the 51-foot stage. While visually appealing, such a unique space can present acoustical challenges. Since the new ICA had expanded its mission to offer performing arts and film genres, they envisioned the room to serve as both a movie theatre and a live stage for dance, music, and theatrical performances.
A collaborative approach to audio, video, and film presentation systems
As a nationally recognized installer of audio, video and film presentation systems, Boston Light & Sound® (BL&S) was chosen to implement the consultants' audiovisual design, as well as design-build a motion picture film projection system. BL&S worked closely with the design team, installing a sound system to produce the highest quality audio for both live sound reinforcement and Dolby Digital 5.1 Cinema Sound. The BL&S team also consulted with the new ICA's production staff throughout the build process, to ensure that the systems met their specific needs. This project was particularly complex, involving multiple consulting firms working in harmony with building trades to deliver a complete system under an uncompromising deadline.
Innovative film and video systems
To accommodate the multi-use nature of the space, BL&S implemented several innovative systems. The main projection screen and masking panels can easily be retracted and hidden when not in use. For film and video screenings, the sound system can be quickly set up in full surround sound mode, and then converted back to a front-of-house PA system with stereo effects channels for live performances. The video system has a full complement of source decks, but can also accommodate "guest" video decks from production companies using the facility for a specific event. The system was also designed with ease of use, flexibility, and expandability in mind.
In addition, a remotely controlled video camera captures live video of the performances, and distributes it to various locations throughout the facility. This feature enables the staff to zoom into an area on the stage, frame that picture, and broadcast that image to the dressing rooms, alerting performers to their cues.
The ICA has been delighted with the results, and continues to seek out BL&S to support special events.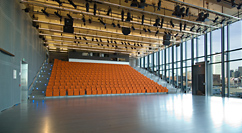 "They're perfectionists."
"They have to make the toughest group of people in the world happy and that's execs in the motion picture industry, and they're up to the task. There's never been a situation that can't be addressed."