sophisticated audio, film and video presentation equipment under an
extremely compressed timeline for all three theatre venues. The team's
project management capabilities and installation expertise came in handy,
helping synchronize activities to meet the tight deadline.
Coordinating multiple disciplines
To keep the project on track, BL&S prewired and tested eight racks of equipment at its staging center to ensure they would work properly once delivered on-site. BL&S then worked onsite to support and advise electricians and other trades, ensuring that all equipment was installed to exact standards.
Flexible, aesthetically pleasing audio equipment
To integrate with the restored vaudeville-era historic design of the main live performance theatre, BL&S installed a main loudspeaker cluster that is retractable when not in use and side column speakers that reside behind acoustically transparent decorative covers. For the black box performance theatre, BL&S installed overhead grid audio equipment and portable speakers, freeing the theatre director to rearrange equipment to adapt to various performance types and seating configurations.
BL&S design and integration
BL&S was also charged with designing the theatre's screening room. The team sourced and installed specialized dual-mode motion picture film projectors that enable the projectionist to exhibit both archival 35mm and 16mm film. The DCI-compliant digital cinema video projector and alternate content components support a wide array of video formats, including computer sources, Blu-ray, DVD and multiple HD sources. A state-of-the-art cinema surround sound system delivers incredible audio performance for both motion picture film and digital presentations.
Maximum versatility
BL&S integrated equipment together via multiple touch-screen panels that give the screening room maximum versatility and ease of use. For example, BL&S installed and programmed an interactive control at the podium location so the room can be used as screening room or presentation space. Using an intuitive wireless touch-panel, presenters and other staff can easily control the main system. They can display a PowerPoint presentation or video clip, activate microphones, and adjust the sound volume as needed.
The acoustical consultants and theatre owners have been extremely pleased with the craftsmanship and dedication of the BL&S team.
Collaborating with consultants
Auerbach Pollock Friedlander provided theatre consulting and sound, video, and production communication systems design for the redevelopment of the Paramount Center. The firm designed various systems within the three venues, including sound reinforcement and playback, assistive listening for the hearing impaired, production intercom, production video and projection, and show program monitor/paging/audience recall systems.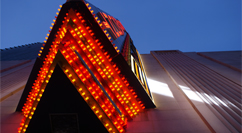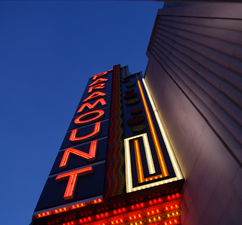 Complete professionalism
"Working within the existing constraints of the building was difficult, and BL&S coordinated with other trades to provide creative solutions that fit within the historical framework of the theatre. The project management that the team provided was excellent, and they handled all the day-to-day on-site issues with complete professionalism.
We also want to express our thanks to BL&S for their installation expertise with the cinema projection systems. They provided another successful job well done and we look forward to working with them again in the near future."