processor, wired and wireless mics, and an 8,000 lumen high resolution video projector. The BL&S team made it easy for students to plug into the audiovisual system at multiple input panels throughout the room and control the functions via a simplified touch screen control panel. For personal use, students can plug in their PC to one of the flat screen TVs located throughout the room.
Cost-effective music playback solutions
Upon completion of the installation it was clear that the students required additional features that were not part of the initial design. Students envisioned being able to plug in their iPods and play prerecorded music, watch big games, and support guest DJs in the Cabaret Room. BL&S came up with a creative solution to add these capabilities in a cost-effective manner. By rerouting wiring and adding TV tuners, they were able to fulfill all the students' requirements.
Integrating audio/video in a short timeframe
As with many college projects, there was a tight time frame to complete work while students were on break. To meet the compressed project schedule, BL&S built and tested all the equipment at their facilities beforehand to minimize time needed on-site. This helped ensure that the project remained on schedule.
A great entertainment space
The work paid off. Students now have access to live music reinforcement, prerecorded music playback for guest DJ inputs or iPod use, computer presentations, Blu-ray video presentations, TV broadcasts, and gaming on the big screen.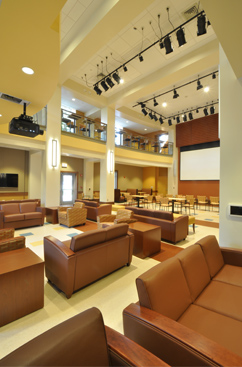 Coordinated seamlessly with GC
"Boston Light & Sound coordinated seamlessly with the general contractor. Their follow up was always timely. We couldn't have asked for more!"